Biography of Seun Anikulapo Kuti
Seun Anikulapo Kuti (born in 1982) is the youngest son of legendary Afrobeat founder Fela Kuti. Fela had eight children. The three eldest children are from his first and only "legal" wife Remi Taylor. Yeni (a girl), Femi (a boy) and Sola (a girl). Femi and Yeni nowadays run the resurrected New Afrika Shrine in Lagos together while Sola, a dancer in Fela's Egypt 80 band, died tragically in 1997 several months after her father due to a wrong medical diagnosis. Fela had five more children from his much publicized group marriage to 27 wives.
In 1986 Fela returned home after being released from prison. His eldest son Femi, who had played tenor sax in Egypt 80 from his sixteenth year up until that point, decided it was time to start up his own band. While continuing the Afrobeat blend of music, Femi esche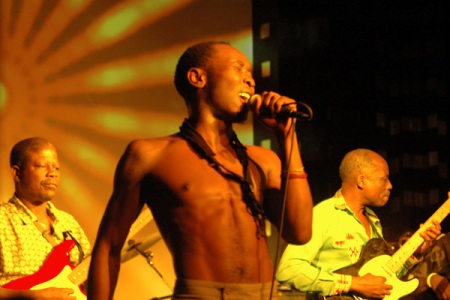 wed the rock star aspects his father had embraced and married a single wife and banned all alcohol and drugs from his surroundings. Apparently Fela and Femi had a fallout and didn't speak to each other for several years. Although in the African tradition the eldest son is the first choice in taking over the role of the father, there was always a certain distance between Fela and Femi. Femi being raised by his mother. There's a marked difference with Fela's youngest son Seun. Unlike Femi, Seun is a 100 percent Egypt 80 product, being the son of the band's leader and one it's singers: Fehintola Anikulapo Kuti. Fehintola's name and pictures are featured on many an Egypt 80 record sleeve from the 1980's, the period when African artist where more popular than ever in the West.
Seun's uncanny resemblance to his father probably played a role in being his father's favourite child. The children of Fela's group marriage often went on tour and attended gigs. At the age of nine Seun expressed the wish to sing to his father. A short while later Seun started acting as a sort of mascot and would sing a few songs backed by Egypt 80 before his father took to the stage.
After Fela's death of AIDS in 1997 Seun, then only 14 years old, became the lead singer of Egypt 80. While in school Seun had to choose between a career in music and one in American Football for which he has an outstanding talent. Performing for crowds sometimes consisting of only 3 or 4 people, he honed his musical skills for several years. Those skills were showcased to the world with the 2008's self-titled debut album. The album was hailed as one of the most exciting releases in world music in years. This was piping hot Afrobeat, straight from the source, with Seun staying very close to his father's original formula but with a definite personal touch. The same year Seun shared the stage with Diana Ross at the Nobel Peace Prize Concert. The first American tour could only come about after some help from the world's most famous Afrobeat fan, Mr Barack Obama, who pulled some strings to get the band their visa's. About three-fourths of the current Egypt 80 line-up consists of musicians that not only played with Fela, but often were arrested and harassed alongside the founder of the Afrobeat movement. Live sets consist of both new material and originals from Seun's father. During his lifetime Fela never performed songs he had recorded, so for many fans this is their first chance to enjoy classics like Shuffering and Shmiling, Colonial Mentality and Army Arrangement in a live setting.
As anyone who has attended Seun's gigs can attest to, Fela's spirit can be felt closely. Seun did pick-up a bit of the rock star aura of his father with the use of substances before and after gigs. Seun is presently single. A second studio album is scheduled for 2010. With Afrobeat becoming a global phenomenon we can be assured that Seun Kuti and his late father's band will be at the forefront of the resurgence.
Read the backstage interview I had with Seun at 2009's Music Meeting Festival.
Audio interviews with Seun Kuti:
Listen to a 30 minute audio interview with Seun Kuti and Adedimeji Fagbemi AKA Showboy by longtime Afrobeat fan Brent Clough from Down Under. Click on the picture to start the interview (opens in Windows Media Player).